1.)  Hover your mouse over the Teams/Locations tab.  In the drop down scroll over Levels and in the pop out click on "edit".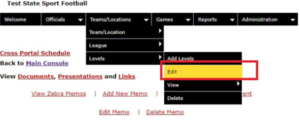 2.) This will bring up a select box so you can select the level you wish to edit.  The level shows the associated League. 

3.) Add the game duration for that level. For example, a Varsity basketball game is 1 hr. 30 minutes.   
4.) Add the level number of games which in our scenario will be 1  
5.) Add Officials Fee, if you do not want to add that, make it 0.  
6.) Set the default for the number of officials on the game.   
7.) Set the default for game help crew. i.e., chain crew, clock operator  
8.) Press Save