Contact Card – Email, Text, message, Directions
ZebraWeb Mobile makes it easy to see quick contact information of all your contacts, crew members and other association members.  To view a contact card simply:
From Game Details
Click on any "Pending" or "Assigned" Game.

Click on any Assigned official in the officials section.
     *** View the contacts information and Email, Text, Chat or Get Directions.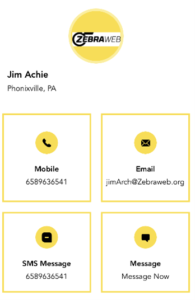 From Contacts
Click on the Contacts Icon in the main Nav menu
Click on or Search the Contact you are interested in viewing

*** View the contacts information and Email, Text, Chat or Get Directions.***